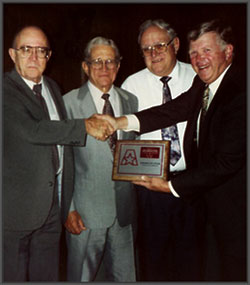 Glen, Robert, and Joseph Ray (from left to right)

Ray Brothers Transportation, Inc. was established in 1963 by 3 brothers who immigrated from the midwest. Glenn Ray, Joseph Ray and Robert Ray founded the company with a $5,000.00 loan from their Aunt in Sioux City, Iowa. It was originally based out of a garage along California Hwy 99. From that location the brothers put in many hours to establish themselves.  Their entrepreneurial spirit and principals of honesty and hard work are what set the base for the company today.Our current site, no longer a garage, is adjacent to the original site and is still run by the family.

With the passing of our father, Joseph Ray, 11/28/11, all the founding fathers have passed away. In 1994, David Ray, youngest son of Joseph, joined the business soon to be followed by Theresa Ray Prandini, and Matthew Ray.

For over almost 50 years Ray Brothers Transportation has been committed to providing quality service to our customers. That is a tradition begun by our founders and upheld to this date.